Since 1712, we have been in business for 300 years in Kyoto, the ancient capital of Japan. Our textiles are specifically used in Chanoyu (the way of tea). A fukusa, is a small silk cloth used in the tea ceremony to purify the utensils and set them on. Carrying on the tradition, Kitamura-Tokusai has kept the premium quality and exquisite texture of the special fine silk. And all fukusa, ko-bukusa and dashi-bukusa are carefully sewed by hand. We are pleased to introduce a part of our works.
However, we are afraid we do not offer online shopping, as it is difficult to express fully the quality of material as well as finished-product, or to convey the smooth texture of fabrics through photos as much as they do so for the beauty of the cloth designs. Now Tokusai produces approximately 400 patterns. We would like to welcome you to our shop in Kyoto, invite you to view our hundreds kinds of textiles, touch and feel our fukusa in person. We look forward to your visit to our shop.
If you do not plan to come to Kyoto soon, some shops will help you.
Please contact us if you have any inquiry.
We are sorry if some kinds are out of stock or take
some time to complete as they are handmade products.
Please be informed that below prices are for reference only.
Fukusa, approx. 27.5cm square double layered silk cloth for the way tea,
is used for purifying tea utensils. It also shows hospitality of the host.



Red, Vermilion(Orange), Purple
There are 4 types of thickness for each color
特優 Tokuyu
極上 Gokujo
真  Shin
行  Gyo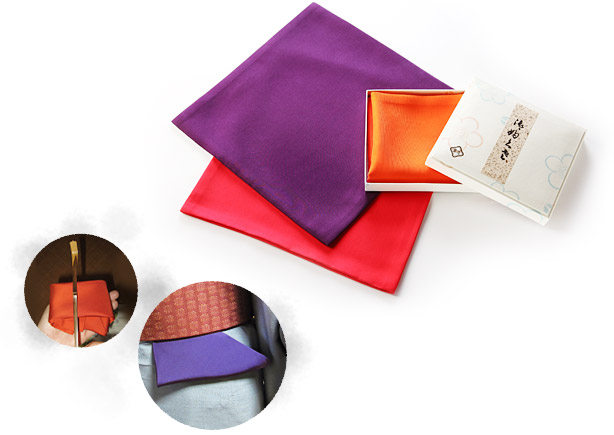 73 colors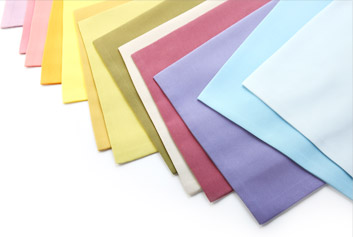 Konnichi-an favored Kamoashimon-fukusa,
Rikyubai-fukusa and others
New collection of designs
come out every year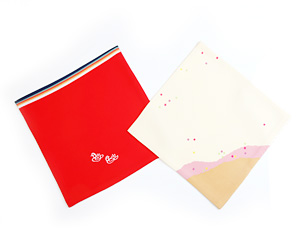 Made-to-order fukusa is also available.
(Order quantity from 35 pieces) [Contact us]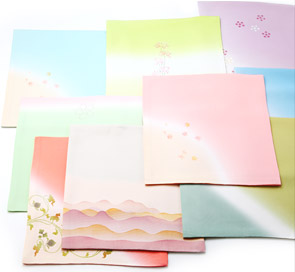 (Design registration No.168911)
Favored by Gengensai (Urasenke XI)

Konarai, Satsu, Karamono,
Daitenmoku, Bondate, Gyo-
daisu, Shindaisu, Judan
Favored by Tantansai (Urasenke

XIV

)

Aka, Murasaki, Konarai, Satsu, Karamono, Daitenmoku, Bonten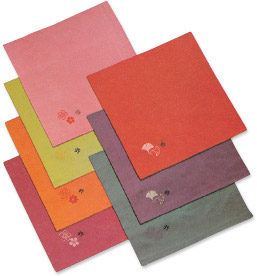 Kobukusa and Dashibukusa are kind of fukusa made of vintage
fabric such as `meibutsugire`. In the way of tea, they are used
to treat or handle the tea utensils.
Please take a look 『お知らせ news from tokusai』as well.

Approx. 15.9cm×15cm square
double layered silk cloth.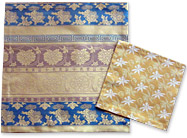 Approx. 27.5cm square double layered silk cloth same as fukusa.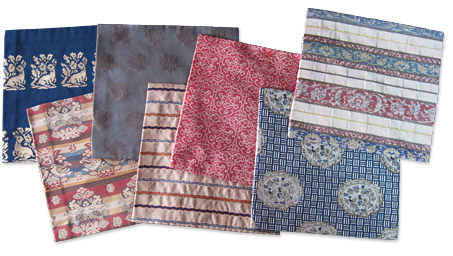 There are several kinds of weaving way, such as kinran, nishiki, donsu,
kandô, shôha, fûtsû, môru and others. Now Tokusai produces approx.
400 patterns.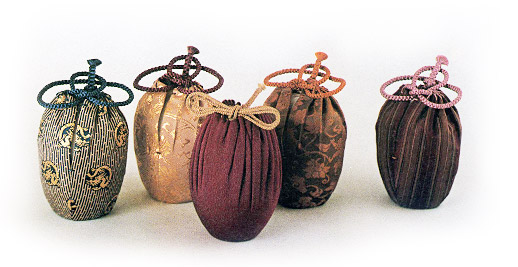 Pouch for tea utensils. Available by made-to-order only.
approx. 60,000yen~ (tax excl.)
Please bring the chaire, usuchaki or chabako, it will be made to order
in about 2months.



Osode-otoshi


3,600yen~(tax excl.)

For storage of used kaishi (paper), no-drip-proof, approx. 9.5×5.8cm(business card size)

Sukiya-bukuro

Chanoyu bag
17,000yen~ (tax excl.)
Yôji-ire

approx. 9×2.3cm
Sweets pick (ivory)
and case
3,000yen~ (tax excl.)

Yôji-ire

Sweets pick (bamboo grown in Kyoto, stamped to stand for Tokusai) and case
3,000yen~ (tax excl.)
Shino-bukuro

Incense pouch for carrying
16,000yen~ (tax excl.)

Obi

Sash for kimono
(for men and ladies)

ADDRESS

414 Tozaicho Horikawa-nishi-iru Teranouchi-dori Kamigyo-ku Kyoto 602-8411

TEL:+81-75-414-0294

FAX:+81-75-414-0292

We speak Japanese language only.

For reservation in English, use FAX or Contact us

STORE HOURS.

9:30AM - 5:00PM, Mon - Fri

☆Please make a RESERVATION in advance.

CLOSED:
SAT - SUN, NATIONAL HOLIDAYS,
Bon(mid-August) and New Year's holiday
*Temporary closing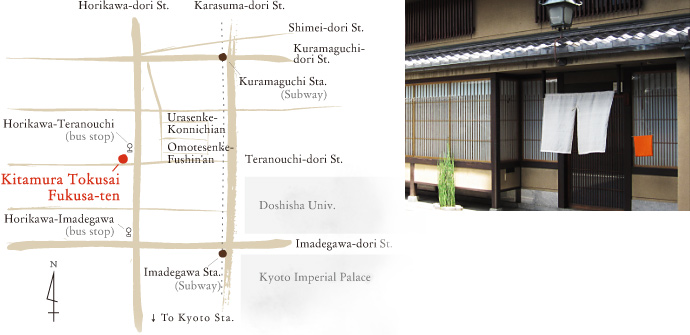 | | |
| --- | --- |
| Taxis | … about 20-minute from Kyoto station |
| Kyoto City bus (No.9 or 12) | … within 1-minute walk from Horikawa-Teranouchi bus stop |
| Subway (Karasuma line) | … about 15-minute walk from Imadegawa or Kuramaguchi station |